NEWS Updated 07/12/2014
Great to report a wonderful week at Mono Lake, including my first time attending the Mono Lake Committee Bird Chautauqua (13th annual!) About time I got there after being a volunteer for the Mono Lake Committee for 28 years! Was a great, well-produced event wtih amazing leaders and wonderful birding and bird photography. Images to be posted soon!
Also happy to report that I got out to the annual Kate Wolf Memorial Music Festival and enjoyed some great music, camping and created a few fun photos.

And, yes, we are still working on a new, much needed website and it has taken way longer than expected, but it will happen!
NEWS Updated 01/08/2012
Wow... finally updating the website NEWS. It has been WAY too long and there has been a lot going on sinnce the last update. We had been very busy with GreenBanners.com has distracted us from keeping up with things over here, but we are actually working on a complete new website now and hope to have it up in the first quarter of this year. So I am happy to report that I am back out photographing again (Had a great fall shoot at Mono Lake and have been out photographing bird migrations and other fun things and back out on the tennis court regularly). The new website will have more gallery images and might even announce some new workshops that we are working on. Thanks for visitng and happy shooting!
NEWS Updated 11/02/2008
Little did I know how busy I was going to be after adding our 60-inch and 44-inch printers and putting the word out a bit. We have been printing thousands of images for people and organizations all over the country since then ... and, unfortunately have had way less time to get out and photograph and conduct workshops. The image on the homepage reminds me of the wonderful falls colors here in Sonoma County, and my hopes to be out in them again soon.
We have finally given into replacing our trusty CRT monitors with new, LED backlit LCD monitors. After much research showing these new monitors to have a much larger color gamut than CRT monitors (100% of Adobe RGB 1998), we pulled the trigger and bought two Samsung XL20 LED /LCD monitors and installed them today. WOW!!! I am TOTALLY impressed with these monitors and actually seeing more colors on screen (the reds and greens are amazing!) We'll report in after a few weeks as we run them through some paces.
NEWS Updated 2/23/2007
We have added new equipment bringing new services for you. The biggest excitement comes from our new 60", 12-color pigment printer and in second place is our new 63" roll mounter / laminator for those really big prints.
Updated 12/19/2006
As 2006 comes to a close, we wish you a wonderful holiday season filled with joy, laughter and love with family, friends and loved ones new and old.
FRONT COVER!!! The current (Winter) issue of RAW VISION Magazine, a quarterly art magazine published in London, features one of Don's Burning Man 2005 images on the cover! (OK, so they decided to flip the image L-R). Great feature story by LadyBee, Burning Man's Art Curator and more photos on the art of Burning Man ~ including a second of Don's images on the inside.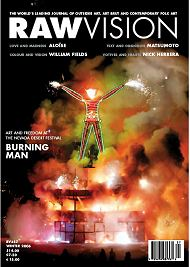 For more information, check out the RAW VISION Website at www.rawvision.com

ARTrails Open Studio Tour FREE!!! October 14-15 & 21-22, 2006 10 am - 5 pm This is Sonoma County's premier open studios event celebrating their 21st year and it is my 10th consecutive year in this juried event. Please visit my studio (Studio #3) in Forestville for a viewing and sale (many items at special ARTrails pricing!) of my nature, wildlife, landscape, infrared and Burning Man photographs. This is my largest gallery event of the year, and I have over 60 framed images hanging in a gallery setting. My studio is located in Forestville off River Road / Champs de Elysees, three blocks west of Mirabel Road and up the hill. Just look for the blue ARTrails signs.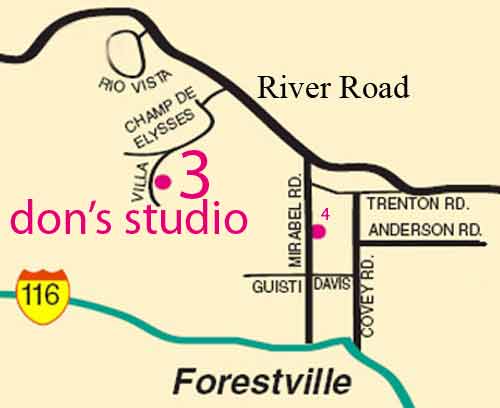 See www.artrails.org for more info, including a complete online catalog including a detailed map and instructions on how to get your own copy of the catalog. I have extra copies of the printed color catalog in my Studio if you need one. Look forward to seeing you here and I encourage you to visit as many studios as you can ~ there are great ARTists of amazing variety on ARTrails!
BANNERS BANNERS BANNERS!!! We are now printing photo quality banners (largest so far is 42" x 360" (yes, 30 feet!!!) For more info click Banners.
Harmony Festival June 9-12, 2006 Sonoma County Fairgrounds. This year's Harmony festival ROCKED!!! The place was jamming with a huge, enthusiastic crowd plus the entertainment was fabulous: Bob Weir & Ratdog, Cake, Michael Franti & Spearhead, Ozomatli, WAR, ZERO, Sound Tribe sector 9, etc etc etc...WOW! There was so much wonderfuI activity that I shot OVER 4100 images !!! (Which I am now in the throws of processing. Stay tuned for images in the Events section.)
ARTrails - 20th Anniversary Open Studio Tour (FREE!) will be held October 15-16 & 22 -23, 2005 10 am - 5 pm throughout Sonoma county. Please come by and visit me at my studio, #4, in Forestville and the other 140+ fine artists. This is my largest home gallery event of the year, and I have over 60 framed images hanging in a gallery setting. Many new images (Laguna de Santa Rosa and general Sonoma County images) and overstock and sale items! See www.artrails.org for more info, including a complete online catalog including a detailed map and instructions on how to get your own copy of the catalog.
Bay Nature Magazine, published in Berkeley, has an article on the Laguna de Santa Rosa in their October - December issue. The article features 9 images, all of which are mine :) You can get a copy of the magazine at major bookstores and through the Laguna Foundation (527-9277) or subscribe through www.baynature.com .
NEWS Updated 09/22/05
I was on assignment this year at Burning Man for Rolling Stone magazine! Three of my images (out of 5 used in the article) were published in the September 22 issue. Being in remote area, I ended up using a satellite link to upload images to the magazine (Thanks Trout!), and they were published and at the newsstand in Santa Rosa two business days later! (I was over Labor Day weekend, though still amazing.)
Updated 08/20/05
Grape To Glass Open Studios
Nature & Wildlife Photography
(three blocks west of Mirabel Road
follow signs 0.9 mile up the hill)
I invite you to my gallery as a pre-ARTrails preview and SALE!!!
With over 60 framed pieces, I am out of room in the gallery
(also known as my home)
and I am creating even more new images for ARTrails 2005 in October (I have a new body of work from the Laguna de Santa Rosa plus other new works)
so I need to make more room!!! So it's either add on another room
to the house ~ not likely ~ or ...
So it's SALE SALE SALE Time!
20% to 50% discount on a large selection
of framed and unframed images!!!
Framed images starting from less than $100
Ready to frame images from $35
Please come by for a visit and
feel free to share this with
Refreshments will be served,
cranberry zu

cc

hini bread!
Thanks and see you today!
Home Page Image
The new image on the homepage of the website is from the Laguna de Santa Rosa. There are many magnificent oak trees in the Laguna, and capturing them in infrared black and white just seems fitting. I have long been intrigued by infrared black and white, though often found it cumbersome in the field (you must load the Kodak infrared film in total darkness, not get it too warm or it will "self-expose", and remove it in total darkness and have someone very competent process the film... and you still might not get what you wanted! Exposures can be very tricky.
With the advent of digital cameras, some of which (especially the older ones without infrared cutoff filters to protect the digital sensors) do an excellent job with infrared capture, with the added benefit of none of the handling headaches of infrared film and the added ability to see the results immediately. I find this a VERY fun way to see and record the world. Many more images to come!
Laguna de Santa Rosa / Docent Program
In the past couple of years I have been spending less time at Mono Lake, though I still love it there and encourage you to visit and support the wonderful and highly successful Mono Lake committee, wanting to do more work "in my own backyard." The Laguna has popped full-force into my vision, and I am currently in the midst of the Laguna de Santa Rosa Foundation's awesome 10-week Docent Training Program (please visit their website to learn more about them and their programs). I have been photographing wonderful birdlife (Osprey, eagles, herons, egrets, ducks, etc.) and scenic areas in the 14 mile long Laguna. Once I get a body of work together, I will make a separate page accessible from my home page for the Laguna images.
New Member of the Family
Somewhat reluctantly at first, there is a new member of the family here. Her name is Bella, a feral / abandoned cat that I have made friends with over many months. Pictures to follow!
OOPS!!!
Oops? Yes, afraid that is true. On April 2, while playing a typical go-for-it game of tennis, I tore ligaments in my right ankle, which has severely curtailed many of my activates. After a week of ice and elevation, I am now mobile with help of crutches and an ankle brace, which I will be wearing for another 4 weeks. Sometime in June I will be happily (I hope) starting back on the road to recovery for my tennis game and outdoor photographic and hiking jaunts.
I hope that you are enjoying the spring and looking forward to summer!
Cheers,
don
UPCOMING EVENTS
Late rains are great for spring flowers!